Like many postmodernist buildings, the Learning Hub at the Nanyang Technological University has very quickly acquired a nickname – the "dim sum building", because its facade resembles stacks of bamboo dim sum baskets.
I was absolutely enthralled by how this building showcases the fluid use of concrete. The moulded horizontally-lined round facade panels, with their currently brown patina, had the appearance of wicker or bamboo (hence the popular moniker), and at the same time, of wet clay hand-sculpted on a pottery wheel. The tapering of each layer towards the base of the stack was of pleasant proportion, and to me, made the whole structure seem more organic, suggesting wasps' nests, rather than dim sum baskets.
Well done, CPG Consultants (project lead: Vivien Leong) for doing the hard work of actually figuring out how to build the thing – finding the silicon moulds and the right contractors etc, to make Heatherwick Studio's design a reality.
The stairwells with protective bronze(?) rain-screen. We wondered how effective they would be in the driving rain, and how the maintenance people would keep rust at bay.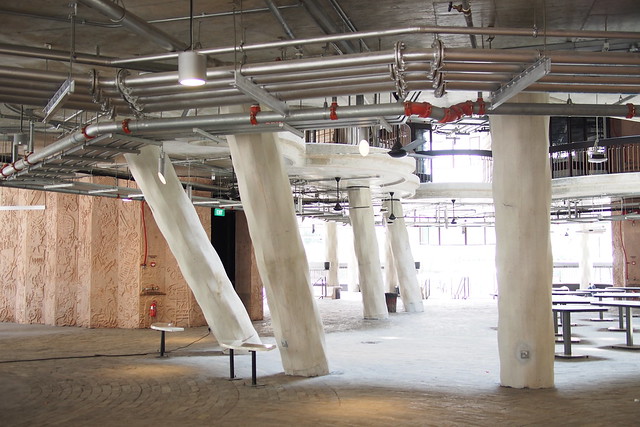 61 angled concrete columns had a delightful texture to them, again appearing natural and organic, like the trunks of birch trees with the bark whittled away. The illusion was quickly dispelled by the power sockets embedded at the foot of each column.
Still, the effect from afar was of a building balanced on these wooden stilts, allowing freedom of access from several angles both to stray breezes and students.
Again, I've not seen such wide use of embossed concrete before: the walls of the staircases and lift lobbies featured Sara Fanelli's images of science, art, literature.
Love how the circular, glass-walled class rooms front an airwell (or "internal, naturally-ventilated atrium") that both maximises air-circulation within the building, but also, as a skylight, brings, erm, light into the classrooms.
Each room will apparently be cooled not with the usual air-conditioning but with "silent convection" (you mean, fans?). ("The Learning Hub building was awarded Green Mark Platinum status by the Building and Construction Authority (BCA), Singapore, the highest possible environmental standard for a building of this type.")
We all know the common dilemma faced when designing a building in Singapore: while a well-ventilated place is welcome when the sun is beating down in all its harsh glory, such buildings unfortunately tend to offer little protection during heavy thunderstorms when strong winds drive the rain in horizontally. I'm sure this has sorted this out already so it'll also be interesting to know about the waterproofing used to prevent rainwater seepage, since there will be many opportunities for ingress especially via the central airwell, and in terms of user experience, how well students will be protected during heavy thunderstorms. Also, how have the issues of pooling, ponding on the ground floor been dealt with? Was so fascinated that wasn't looking for drainage holes while on site.
The interior fitting-out was still ongoing when we visited but artists' impressions show round cornerless classrooms, meant to reflect "a wish to break down the traditional square forward-facing classrooms with a clear front and hierarchy, and move to a corner-less space, where teachers and students mix on a more equal basis. In this model, students work together around shared tables, with teacher as facilitator and partner in the voyage of learning, rather than 'master' executing a top-down model of pedagogy."
Ah, all the benefits and issues, and ontological and epistemological assumptions that attend attempts at constructivist and social learning approaches to education. Hope there will be more information about user experience, not only with regards to the physical classroom but also in the learning interactions that take place within those enclosed pods.